The Development Office of Ho Catholic Diocese, has presented start-up tools and equipment to 66 selected artisans in the Volta Region.
Catholic Bishop presenting the donation. The items are to help the beneficiary hairdressers, carpenters, dressmakers, bakers and kente weavers, establish their own "community level businesses."

The beneficiaries, from 15 districts in the region, and the Asuogyaman District in the Eastern Region, were also trained in basic business management and entrepreneurship, to help grow their businesses within six months, and pay for the tools to enable others to benefit from the package.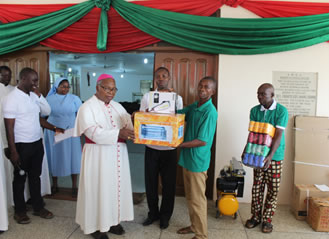 The project, named: "enhancing human resource for growth and development at community level" had sponsorship from MISEREOR, a registered charity of the German Catholic Bishops Conference.

Most Rev. Francis Anani K. Lodonu, Catholic Bishop of Ho, who presented the items, said the Diocese was glad to be responding to the needs of the "poor, simple and disadvantaged" in society.

He said the Church knew that government could not implement all its projects and policies, hence addressing the "missing link between police and practice."

Bishop Lodonu charged the beneficiaries to work hard and take control of the destinies of their businesses.

Mr Emmanuel Nyaku, Volta Regional Manager of the National Board for Small Scale Industries (NBSSI) commended the Catholic Church for efforts at addressing societal problems, and asked the beneficiaries to visit the NBSSI offices in the districts for technical support.

Madam Bless Neriah, Volta and Eastern Chairperson of the Association of Ghana Industries, reiterated the need for Ghanaians to patronize locally made goods in support of local industries.

Mr Yao Semordey, Volta Regional Coordinator of the National Youth Council asked the beneficiaries to keep learning new things to remain in business.

Reverend Father Terence Adzimah, Director of the Diocesan Development Office, said the presentation was the second phase of the Human Resource Programme, which started in 2013, and would end in 2016.

He said the first phase focused on education and conflict resolution using mediation process- Alternative Dispute Resolution.

GNA